This applies for model: FNA-10XX series (FNA-1001, FNA-1011M, FNA-1011) (Universal AC Adapter).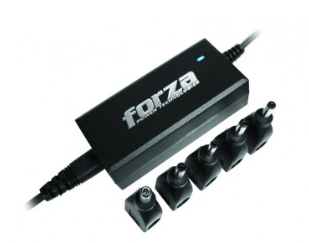 ​

This Universal adapter FNA-1001M was designed for most of the Notebooks / Netbooks generic batteries, this device comes with 5 different connector plugs called "Smart tips", enabling it to work with the vast majority of laptops available on the market.

NOTE: Selecting the wrong voltaje can damage your machine. Look in the User's manual of your notebook for the correct voltaje, which can also be found on the description label of your machine. The voltage selected is shown on the LED display of this charger when a specific tip is attached to the "snap-and-lock" DC connector.


Please check this compatibility list and choose the correct smart tip for your Notebook / Netbook and then connect this tip to the "snap-and-lock" DC connector to use it
DC Connector

Fit for

Compatible
Part Number

Fit Models

HG9: 9.5V 4.8*1.7mm

ASUS 9.5V/2.5A, SONY 10.5V/2A

AD59930

ASUS Eee PC Series 700,701,701SD,701SDX,2G,2G Surf,4G,4G Surf,8G etc. Sony P13 P15 P17 P80 series

HG10: 12V 4.75*1.7mm

ASUS 12V/3A

ADP-36EH C

ASUS Eee PC Series 900, 900A, 900HA, 900HD, 900SD, 901, 904HA, 1000, 1000H, 1000HA, 1000HD, 1000HE, 1000HG, 1002HA, 1000XP, S101, S101H, etc. ASUS R2 Series R2E, R2H, R2Hv, ASUS Eee Videophone AiGuru SV1

HG6: 19V 4.8*1.7mm

Acer 19V/1.58A

PA-1300-04

Acer Aspire One (All) Series Acer Aspire One A110L Acer Aspire One A150L Acer Aspire One A150X Acer Aspire One AoA110-1295 Acer Aspire One AoA110-1722 Acer Aspire One AoA150-1006

HG5: 19V 4.0*1.7mm

HP 19V/1.58A

HP 496813-001 HP-A0301R3




HP 493092-002, 496813-001, NA374AA#ABA, PPP018H, HP-A0301R3

Mini 735EQ, Mini 735ES

Mini 1109TU, Mini 1110LA, Mini 1110NR,




Mini 1110TU, Mini 1111TU Vivienne Tam Edition,




Mini 1112TU, Mini 1113TU, Mini 1114TU,




Mini 1115NR, Mini 1115TU, Mini 1116NR,




Mini 1116TU, Mini 1117TU Vivienne Tam Edition,




Mini 1118TU, Mini 1119TU, Mini 1120BR,




Mini 1120LA, Mini 1120NR,




Mini 1120TU Vivienne Tam Edition, Mini 1121TU,




Mini 1122TU, Mini 1123TU, Mini 1124TU,




Mini 1125NR, Mini 1125TU, Mini 1126NR,




Mini 1126TU, Mini 1127TU, Mini 1128TU,




Mini 1129TU, Mini 1130CM, Mini 1131TU,




Mini 1133CA, Mini 1135CA, Mini 1137NR,




Mini 1139NR, Mini 1140NR Vivienne Tam Edition,




Mini 1141NR Vivienne Tam Edition, Mini 1150BR,




Mini 1150CM, Mini 1150LA, Mini 1150NR,




Mini 1151NR, Mini 1152NR, Mini 1153NR,




Mini 1160CM, Mini 1170CM, Mini 1180CM,




Mini 1190BR, Mini 1198eo Vivienne Tam Edition,




Mini 1199ea Vivienne Tam Edition,




Mini 1199eb Vivienne Tam Edition,




Mini 1199ec Vivienne Tam Edition,




Mini 1199ee Vivienne Tam Edition,




Mini 1199eh Vivienne Tam Edition,




Mini 1199EJ Vivienne Tam Edition,




Mini 1199eo Vivienne Tam Edition,




Mini 1199ep Vivienne Tam Edition,




Mini 1199eq Vivienne Tam Edition,




Mini 1199ER Vivienne Tam Edition,




Mini 1199et Vivienne Tam Edition,




Mini 1199ev Vivienne Tam Edition,




Mini 1199EZ Vivienne Tam Edition




HP Mini 110-1000 Series




Mini 110-1001TU, Mini 110-1006TU, Mini 110-1007TU,




Mini 110-1008TU, Mini 110-1011TU, Mini 110-1012NR,




Mini 110-1013TU, Mini 110-1014TU, Mini 110-1015LA,




Mini 110-1016TU, Mini 110-1017TU, Mini 110-1019TU,




Mini 110-1020LA, Mini 110-1020NR, Mini 110-1025DX,




Mini 110-1025TU, Mini 110-1027TU, Mini 110-1030CA,




Mini 110-1030NR, Mini 110-1032TU, Mini 110-1033CL,




Mini 110-1034TU, Mini 110-1035TU, Mini 110-1045DX,




Mini 110-1050LA, Mini 110-1050NR




COMPAQ




Compaq Mini 110c Series




Compaq Mini 110c-1000 Series




Mini 110c-1001NR, Mini 110c-1010EA, Mini 110c-1010EE,




Mini 110c-1010ES, Mini 110c-1010ET, Mini 110c-1010SA,




Mini 110c-1010SB, Mini 110c-1010SH, Mini 110c-1010SP,




Mini 110c-1011SA, Mini 110c-1020EI, Mini 110c-1030EK,




Mini 110c-1030EQ, Mini 110c-1050EF




Compaq Mini 700 Series




Mini 700EA, Mini 700ED, Mini 700EE,




Mini 700EF, Mini 700EI, Mini 700EK,




Mini 700EL, Mini 700EM, Mini 700EN,




Mini 700EP, Mini 700ER, Mini 700ES,




Mini 700ET, Mini 700EW, Mini 701ED,




Mini 701EG, Mini 701EI, Mini 701EM,




Mini 701EN, Mini 701ER, Mini 701ES,




Mini 701ET, Mini 702EA, Mini 702EG,




Mini 703EA, Mini 705EI, Mini 705EL,




Mini 705ES




Compaq Mini 730 Series




Mini 730EA, Mini 730EB, Mini 730EE,




Mini 730EJ, Mini 730EO, Mini 730EQ,




Mini 730EV, Mini 730EZ, Mini 731EH,




Mini 731EI, Mini 731ET, Mini 732EG,




Mini 732ET, Mini 733EB, Mini 733EF,




Mini 733EZ, Mini 735ED, Mini 735EF,




Mini 735EI, Mini 735EJ, Mini 735EO,

HG11: 20V 5.5*2.5mm

LENOVO 20V/2A, MSI 20V/2A, ADVENT 20V/2A

41R4441, 45K2200

Lenovo IdeaPad S9 series,
Lenovo IdeaPad S9e series,
Lenovo IdeaPad S10 series: Lenovo IdeaPad S10 - 423135U (Black)Lenovo IdeaPad S10 - 423134U (White) Lenovo IdeaPad S10 - 423132U (Pink)Lenovo IdeaPad S10 - 423137U (Blue), Lenovo IdeaPad S10 - 423133U (Red)Lenovo IdeaPad S10 - 42312CU (White) Lenovo IdeaPad S10 - 42312DU (Red)Lenovo IdeaPad S10 - 42312AU (Pink) Lenovo IdeaPad S10e Series.
MSI Wind U115 Hybrid series, MSI Wind U120H series, MSI Wind U120 series MSI Wind U90 series,MSI Wind U100 series